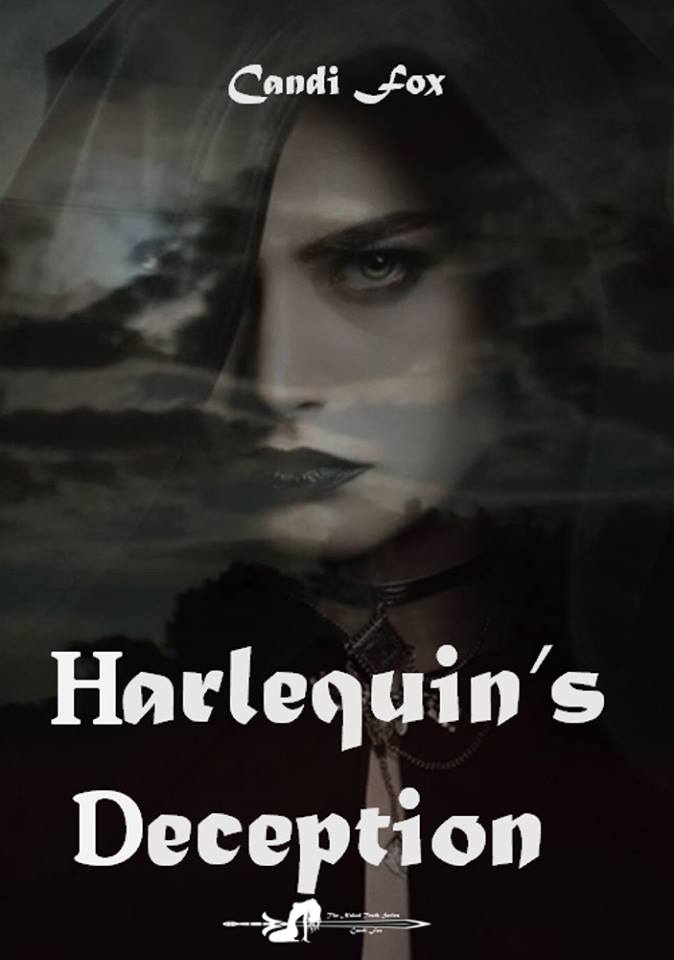 Harlequin's Deception is quite the treasure chest, revealing layer after layer of gems as we read through this first book of Candi Fox's new series, The Naked Truth.
Below you will find Candi's official bio, and insight teaser blurb for this book, as well as links for purchasing your own copy, and to connect with this talented author.
Before you get to those resources I wanted to share my view of this novel as well as a brief interview I did with the Ms Fox about her new series.
When I go to select a new book, I find genre classifications somewhat limiting and deterring, as to me a good book, an intriguing story will cross the lines of a one dimensional description. Such is Harlequin's Deception. Some may be seeking an paranormal romance novel, some may seek an action drama with a strong female heroine, and some may seek an erotic voyage. Harlequin's Deception is all of that and more, and is clearly just the first stretch of the journey of The Naked Truth.
Questions with Candi ~
1) What inspired this series specifically? I have always loved the character Harley Quinn. When I played the first generation Xbox there was a game called PSO and my handle on that was Harley Quinn and most of my friends called me Harley and even years after when we quit playing the game they still called me Harley and not Candi even though by then they knew my name. So it was has always been in my mind however I didn't want to do the normal Harlequin so I needed to pay homage but in my way and the idea for Harlow Lake Kelly came to mind because I'm a huge Silver Screen buff. She's named after Jean Harlow and Veronica Lake. And then Kelly just happened to be her married last name, but of course I love Gene Kelly so that's where that came from inspiration wise. I wanted this female lead character to be different than a lot of the female leads that I see that all have some type of really big major hang up. I want a Harley to be free to be her own person to be her. I want her to be able to do what you want, say what you think, and live her life without apologies and as for inspiration for that the front of the book there's a dedication just show many women share this – Madonna, Olivia Newton-John, RuPaul - they were really pioneers, uniting their own rights. The inspiration for Harley created the entire world for me. The shift was something that I needed because I wanted to bring out the paranormals into the world. But I also wanted it to be where Harley was going to go through the change with them rather than it be something that happened 50 years ago. So I have a book that I've gotten 90% of written that is actually the prequel to this book, this shift so it'll be the shift series period but that probably won't come out until next year or the year after.
2) Who is your favorite character and why? It's so hard for a writer to pick their favorite character. It's kind of like asking mom to pick their favorite kid. And some ways and other ways of course there's always characters that you identify with more than others. In this case I would say Hartley. Because in the last few years I've become very outspoken and just not really been apologetic for who I am. I'm never rude anybody on purpose, I'm never mean to anybody on purpose but I really don't cower in the corner anymore and say 'woe is me' or 'oh my they never should have done that to me'. I take responsibility for my part in the actions and then I learned from what the other people did for their part in the actions. And so I wanted to make Harley like that I wanted her to live her life and not be afraid of what everybody else thinks of her.
3) What do you feel is - if anything - important about bringing mystical concepts into entertaining fiction? I think that it's very important to get mythical concepts out into entertainment. However I think that there should be some truth in even the fiction part of that mythical nature. Because all myths are based off something or someone that actually did happen. So I think it's important to have some base of reality. I know some other writers write High fantasy and so I hope that they put that in that category so the people know the difference between something that may be closer edge to being something that's real paranormal and something that's strictly High fantasy paranormal because there is a difference. I know that and working with Lilith in the past and my own magic endeavors that there are a lot of concepts out there about her that are completely off at least what I have shared with her when she has shared of herself with me they have been completely off so I do think it's important to get those things out there.
4) Do you have secret plans for this series to be made into a video series of some kind? Hell yeah! This series needs to be a TV show. And why I say TV show versus movie is because it's so in-depth and there's going to be so many rich characters in there's going to be new characters every season. It needs to be on like HBO but I need to have my fingers in the pie so they don't go way off board or what I call jump the shark like they did with True Blood. Actually even the end of that series the author kind of jumped the shark for me too. Course I love her and I think she's talented it's just I would have went another way. Of course I respect what she did because of her characters and her choices. So yes definitely would love to see this series into a TV show I think we probably need a few more than 12 episodes a season which is what HBO is good at I'm thinking 15 to 18 episodes per season for this one because there's just so much depth to it I think each book really could be its own series for sure.
Harlequin's Deception
The Naked Truth Series
By Candi Fox
Candi will be awarding 1 $10 Amazon GC, 2 Eooks of Harlequin's Deception and 1 Print Copy of Harlequin's Deception to randomly drawn winners via rafflecopter during the tour. Please use the RaffleCopter below to enter. Remember you may increase your chances of winning by visiting the other tour stops. You may find those locations here.
BLURB:
Ten years ago, the world as we know it changed. The shift is what it became known as. Overnight, paranormal beings came out of the proverbial closet. Something in reality had shifted. Those who had no idea they were paranormal were awakened to a new reality. Ten years in and Harlowe Lake Kelly, Harley to her friends, is back in her small Oklahoma town, widowed and striking out in a new career, namely, a successful magic agency. Her uncanny abilities at using potions, spells, and other means at solving supernatural crimes, thrust her into a partnership with local law enforcement. Things would be great if it wasn't for the three sexy, but deadly, men who stand at all corners of her new life. Lucien, the ancient, alluring Vampire who has made it clear he wants more than Harley's luscious curves. Cowboy, who wants to possess her in every way imaginable, and Aiden. The newcomer who has strict orders from his Vampire boss... but she senses has his own agenda. But in a world where things and beings are never what they seem, life isn't promised and love comes with many strings. So what's a girl to do to untangle those strings?
About the Author:
Candi Fox, co-host of the wildly popular radio show Candi and Company with over 900 thousand listeners began her venture in the paranormal at the tender age of two, when she witnessed her first apparition. From that moment on the paranormal seemed to follow her. No matter where she moved, the house she lived in the house next door, or the house down the street always seemed to be haunted.
She often wondered if she drew the spirits to her. Little did she know that she was indeed a magnet of sorts. It wasn't until she was in her late twenties that she found people who could not only explain her gifts, but would also help her hone them. Armed with this new knowledge she began to openly explore hauntings and other paranormal phenomena.
Growing up in Indiana lent her the opportunity to explore many famous haunted places including the Hannah House, which was once part of the Underground Railroad. A little over two years ago she moved to Tulsa, OK and has began to explore the haunted landscape in a new state.
Candi lives with her husband, and furry children in Tulsa. She is passionate about the occult, saving and rehabilitating horses, horseback riding, magic, all things mystical and has her Reiki Mastery.
She uses her own paranormal experiences as well as her own life traumas to write from a grounded and realistic perspective about subjects that are hard to talk about and even harder to feel for yourself.
Social Links:
Facebook | Amazon | Website | Facebook Author Page | Blog | Twitter | Instagram